c. 1800
Hiram born in Vermont.
November 10, 1825
Hiram marries Catherine Whitmer, daughter of Peter Whitmer, Sr. and Mary Musselman and sister to the five Whitmer sons. They have nine children together.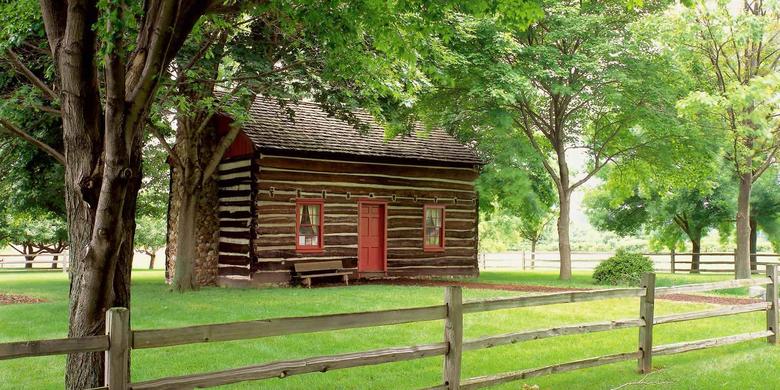 Peter Whitmer Home
June, 1829
Joseph Smith moves to Fayette, New York with David Whitmer's aid, to continue the translation at the home of David Whitmer's father, Peter Whitmer.
Joseph Smith finishes translating the Book of Mormon at the Whitmer home.
The Eight Witnesses, including Hiram, see the golden plates and testify of the book's truth.
April, 1830
June 6: The Church is formally organized at Peter Whitmer Sr.'s home in Fayette, New York.
April 11: Hiram and Catherine are baptizedby Oliver Cowdery.
June 9, 1830
Hiram is ordained a teacher in the church.
August, 1830
Joseph Smith, Jr. returns to Fayette and discovers Hiram using a "seerstone" to receive revelations for the church.
Section 28 of the Doctrine and Covenants is received, saying Hiram Page has been deceived: personal inspiration is a true principle—yet no one but the president of the Church may write revelations for the Church.
All (including Hiram) renounce the false messages.
May, 1831
Hiram moves his family to Thompson, Ohio (about 8 miles east of Kirtland), under Lucy Mack Smith's direction.
1832
Hiram moves his family to Jackson County, Missouri. With the other Whitmers, they form a cluster of ten or twelve homes called the "Whitmer Settlement" west of Independence.
October 31, 1833
Hiram is severely beaten by a group of non-Mormon vigilantes.
On July 31 and August 6, 1834, he testifies to the facts of the beatings.
April, 1838
Numerous Church authorities are excommunicated for apostasy including Hiram, David Whitmer, and Oliver Cowdery.
1838
Hiram buys a farm in Excelsior Springs, Missouri, back in Clay County.
September 6, 1847
William E. McLellin baptizes Hiram Page, David Whitmer, John Whitmer, and Jacob Whitmer into his newly-formed Church of Christ (Whitmerite).
William ordains Hiram a high priest in the church.
Hiram participates in the subsequent ordinations of the others.
August 12, 1852
Hiram dies in a farming accident in Excelsior Springs.