My testimonies of the Prophet Joseph Smith's role in the Restoration and of the Book of Mormon have come over time.
I was born in Salt Lake City, Utah, but we moved to Northern Virginia when I was eleven. I attended church each Sunday with my family and attended seminary at 5:20 a.m. each weekday morning before school.
I began reading the Book of Mormon regularly when I was 17-years' old. Even if I got home late, I would pull the book out and read a chapter or even few verses until eventually i¬t became a source of peace and comfort. Little by little, like drops of oil, I began to know of its truthfulness. I began to understand for myself the character of Jesus Christ, and His pure life, and His great Atonement. He speaks to the world through His prophets and His doctrines are sweetly and powerfully taught in its pages.
I am reminded of another experience I had when I was twenty-one years' old.
I served as a full-time missionary in Nauvoo, Illinois. Early one morning, we jogged to the Smith Family cemetery, a favorite spot. There Emma, Joseph, and Hyrum Smith are laid to rest. I sat on a bench and prayed about the life of the Prophet. We were new to our missions and I was impressed by the Prophet and all that he had accomplished in just 38 years! Praise to the man!
As I pondered, the Spirit interrupted my train of thought and almost chided me: "Joseph Smith was a great man, but only through his faith in Jesus Christ. Jesus Christ taught Joseph. He strengthened and enabled him to do all that he did."
Through these experiences, I know for myself that Joseph Smith is the Prophet of the Restoration, that he translated the Book of Mormon by the gift and power of God, and that Jesus is the Christ. The authoritative keys of the Earth are held by the prophets who have succeeded Joseph Smith. These keys rest today with the prophets, seers, and revelators, Russell M. Nelson and the Quorum of the Twelve, and they are led by Jesus Christ.
If we allow Christ to influence our thoughts and decisions, He will make us greater than we can be alone. We can know truth from error. We overcome all things and find the greatest joy through Him.
In the name of Jesus Christ, amen.
Posted March 2021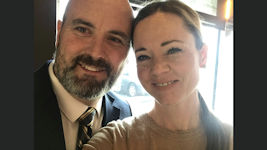 I didn't marry until 39-years' of age and I have had a rich and wonderful life, both before marriage and now! I am a mother of two daughters and stepmother of three and live in Lehi, Utah with my husband, Ryan. I grew up in Salt Lake City, UT and Vienna, Virginia. I studied humanities and English at Brigham Young University, both in Provo and London. I served a full-time mission in Nauvoo Illinois, while my husband served in Portland, OR. I have worked at FARMS Foundation for Ancient Research and Mormon Studies/Brigham Young University, United Way, and Zions Bank. I have a keen interest in Church history and better understanding the scriptures. It is truly a Renaissance of truth and knowledge! I have had the pleasure of studying the witnesses' lives the past two years and admire them as men and women of integrity and humility and faith in Christ. I especially love and admire the Prophet Joseph Smith. I look forward to meeting them all some day.