My Testimony of my early conversion to the Book of Mormon while on my Mission in Fremont, California, in 1972
I have only shared this, before, to fewer than a handful of people that I had a personal vision/dream on my mission and I feel strongly to tell about it now.
You can call and or think I'm crazy, delusional or even a liar but I really don't care what you may think of me because I know what I saw and experienced and I know that G-d knows it and I can not, will not deny it.
When I was called to my mission I knew absolutely nothing about the Book of Mormon even though I had gone to Seminary I never read it, I guess I was a real Utah Mormon, but I felt very strongly about the gospel and the Savior and was committed to my mission. One day I was tracting in Fremont, California and my companion was telling the prospect about the Book of Mormon and the more he said the more I realized my mouth was hanging more and more open, because the prospect was staring at me, I was so embarrassed that later I told the Lord that I needed to know the Book of Mormon like my companion and truly believe in it also not just the Church and the Savior and through extreme prayer and fasting I received my answer.

I saw the Battles of Captain Moroni and the Lamanites I saw the armor I saw the steel swords and head plates and chest plates I saw the naked Lamanites with their crude, but efficiently deadly, weapons of clubs with obsidian impaled into the wood I saw the Axes of stone, and animal jaw bones and the like, I saw the hatred of them toward the Nephites and I saw the Glory of G-d upon the Nephite Armies I saw the Blood and Horror of their Battles and was sickened by it and cannot deny it nor do I dare.
I would that I could see what my Great-Great-Grandfather, saw while he translated the most correct Book and brought it forth to the world and as I testified I have seen some but not enough and I am a weak individual and don't feel worthy of the many things I have been given and shown but sometimes I feel like Elder J. Golden Kimball and I try to repent dang fast.
I testify that these things are true and say this in the Name of the Savior, even Jesus the Christ, Amen.
Jerome Brad Halgren
Orem, Utah
Posted March 2021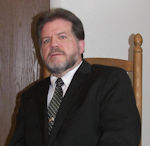 Jerome B. Halgren is known for his work on Granite Flats (2014-2015), Joseph Smith: American Prophet (2017), Kirtland: America's Sacred Ground (2017), The Christmas Dragon (2014), Christmas Under Wraps (2014) and Don Verdean (2015). Jerome was born in Salt Lake City, Utah to Doctor Joseph D. Halgren and Berness Halgren (a school teacher). Jerome has Swedish, English, Scottish, Irish ancestry. His sister Jan Staheli was into theater much of his life, as were his parents, his brother, John, is a businessman. Jerome grew up in Richfield, Utah and Provo, Utah. Played Oliver Twist in Richfield Community Theater with parents and friends in the mid '60's and was a Pub Conflictor with Bill Sykes in "Oliver" in 1970 at Richfield High School. Finished High School in Provo, Utah. Then spent 2 years for the LDS Church, in California and Arizona. Went to College at Brigham Young University and spent a short time working for KBYU TV in the evening news. Worked also for The LDS Motion Picture Studio in Provo, Utah as an Assistant Props and Set Decorator and also did some Extra/Background work on several films in the '70's and 80's. Then worked in various professions over the next several decades in Medical and EMT and taught Utah Hunter Education for several years and a number of Boy Scout and Cubscout Leader positions and then in High School Security but never lost the love of film and acting and returned to it in 2012 with the LDS Motion Picture Studios and various other Production Companies. His wife also did a couple of LDS shorts. Jerome and his wife raised a family of 4. They have nine grandchildren.
– IMDb Mini Biography By: Jerome Brad Halgren