I have a sure witness of the truthfulness of the Book of Mormon, of its origin, its profound witness of Jesus Christ, its miraculous coming forth in the early 1800's and of its divine power to link the heavens to the hearts of God's children. This witness is reaffirmed over and over as I read, ponder and pray about the individuals, families, societies and circumstances of these Abrahamic people. This sacred text is alive and organic. The words, teachings and doctrines continue to reveal themselves to me. Many times I have come across a phrase, teaching or event recounted in the chapters that I had not previously understood. It's as if I had not read that particular part of the book. Again and again in new and deepened ways I have seen Christ directing these ancient people. The accounts captured of God's dealings with His children have direct and real application to me … for today … in today's circumstance. This is remarkable. How can a book written over a 1000 year period and nearly 2000 years ago speak to me today? It does and it does with power.
During a very difficult period of my life and in desperate need of heavenly help, I turned to the Book of Mormon with the hope that I could find solutions and direction for my perilous situation. Each day during my lunch hour I drove to an area near my work and poured over the pages in search of help. The lives of these ancient people began to speak to me. The way in which they turned to God for aid and assistance provided clarity and promise to me. I grew stronger and stronger in my faith that God, Christ and the Holy Ghost would help me, just like they did with the people of the Book of Mormon. The answers came and the way began to manifest itself. Without the soothing and comforting teachings found in the accounts of these early saints I do not believe resolution to my very difficult circumstances would have happened. My faith was deepened, my hope was extended and my love for Heavenly Father, my older brother Jesus Christ and the Holy Ghost increased.
The Book of Mormon is a witness of Jesus Christ and His role as our Savior and Redeemer. His mercy and love is recounted in these ancient writings unique to the lives of the Nephites and Lamanites in their unique time, circumstance and environment. He visited them and fulfilled the promises He made to their earlier prophets that He would come and heal, teach and direct His faithful flock. The Shephard came, He healed, He taught and He left His gospel with them so that they too could reap the joy and blessings of covenant living. I know this is true…I know it by the power and manifestation of the Comforter, the Holy Ghost, who has witnessed this to me over and over. I invite all honest truth seekers to read, ponder and pray about this sacred and ancient text. When you do, the Holy Ghost will also manifest the truthfulness of it to you.
Posted March 2021.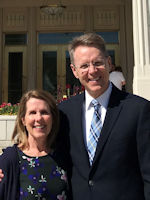 I am 61 years old. My wife and I have been married for 40 years. We have 6 children and 6 grandchildren. I grew up in a rural community in Southern Idaho. I served a mission for the Church of Jesus Christ of Latter-day Saints in the Australia Brisbane Mission. Upon returning from Australia I attended and graduated from Brigham Young University in Provo Utah. I have had the privilege of traveling throughout the world as part of my employment. My wife and I have served in many positions in our Church and count ourselves fortunate to have the love and fellowship of family, friends and neighbors.