When I think about the teachings of the restored church of Jesus Christ I am filled with awe at their simplicity and simultaneous multifaceted depth. The gospel plan seems so straightforward: God loves His children and has prepared a way for them to find peace through repentance, baptism, and the Gift of the Holy Ghost to guide them through life. And yet when I seriously study that doctrine I am fascinated with its expanding ramifications, continuity, symbolism, typology, and harmony with the natural world. A good example of the latter occurred when I began researching for my dissertation. I contrasted the pneumatology of nineteenth century Americans and was overwhelmed by how much richer Joseph Smith's understanding of the Holy Spirit was, compared to his peers. He did not claim authorship of the intricate ideas, though, but attributed divine revelation as the source of his doctrine. Again I observed the balance between the simplicity of personal inspiration and the new far-reaching insights it brought.
As an undergraduate I was fascinated by the Book of Mormon's ties to Hebraic linguistics—syntax, chiasmus, numerology, and history. The more I studied, the more connections I was able to make between the Book of Mormon and biblical history and thought. It was stimulating and interesting, and yet that is not why I am a believer. I believe that the Book of Mormon is a second witness of Jesus Christ because, after studying it, I prayed to know if it were the word of God. God answered my prayers with a feeling of sweet peace and His love. My mind was enlightened and I knew it was true from a feeling deep within me that resonated of rightness. This witness from the Holy Spirit has been repeated over and over as I further experiment on the Word of God.
These feelings motivate me to try every day to live the life of a disciple of Christ. I often fall short, and that is why I desperately need a Savior. I am filled with gratitude for Jesus Christ whom I accept as my Redeemer and the Son of God. I have felt the cleansing power of His Spirit and the blessings of repentance with its corollary, the love of God. I believe with Isaiah, "He was wounded for our transgressions, he was bruised for our iniquities: the chastisement of our peace was upon him; and with his stripes we are healed" (53:5). I also believe that he was the promised Messiah and fulfilled the Mosaic Law. He came at the meridian of time and will come again to rule and reign during the thousand years of peace known as the millennium.
I believe the Savior's ministry continues in the twenty-first century under the direction of living prophets and apostolic priesthood. These are not infallible people, but they are working under the direction of an omniscient and omnipresent devoted God. I believe God carries out His work through these servants and when they speak through the gift of revelation their words are the words that God wants communicated. This is an awesome thing, and yet I too have felt inspired by the Spirit of God so I can extend my faith to believe that repentant Peter served as the Lord's mouthpiece and so can other anointed fishers of men.
Posted November 2010 on FairMormon.org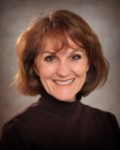 Lynne Hilton Wilson lives in Palo Alto, California, with her husband, Bishop Dow R. Wilson. She is mother to seven children—all with red hair. She graduated from BYU in 1982 with a degree in University Studies and Nursing. An accomplished cellist, Lynne played with the BYU Philharmonic and Chamber Orchestra at BYU. In 2003, she received her MA in Religious Studies from Cardinal Stritch University in Wisconsin. Her thesis explored Christ's birth narratives in the New Testament. She received her PhD in Theology and American History at Marquette University, a Jesuit institution in Milwaukee, in 2010. Her dissertation focused on Joseph Smith's understanding of the Holy Ghost compared to other nineteenth-century theologians. Lynne has been a volunteer in the Church Education System for the past fifteen years in France, Belgium, and Wisconsin, and, most recently, at Stanford University. She is a popular BYU Education Week presenter and has also presented and published papers at the Society of Biblical Literature, the Sperry Symposium, the BYU Studies 50th Anniversary Symposium, the BYU Religious Studies Center Easter Conference, and Stanford Friday Forums. Her first two books have been submitted for publication: Cultural Background and Baggage: Christ's Empowerment of New Testament Women; and Spiritual Empowerment: Joseph Smith's Understanding of the Spirit Contrasted with Preachers from the Second Great Awakening.