Katharine Smith Salisbury Timeline
July 28, 1813
Katharine is born in Lebanon, New Hampshire, the seventh surviving child of Joseph Smith Sr. and Lucy Mack.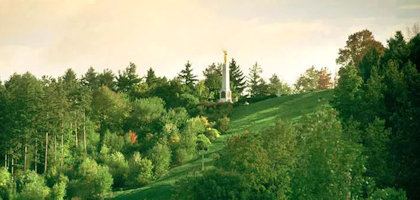 Hill Cumorah
September 22, 1827
Joseph makes his final visit to Cumorah and obtains the plates from the angel Moroni.
Fourteen-year old Katharine hefts the covered gold plates.
Later, she hides them in her bedcovers as a mob searched the Smith family home.
April 6, 1830
The Church is formally organized in Fayette, New York.
June 9, 1830
Katharine is baptized into the Church of Jesus Christ of Latter-Day Saints by David Whitmer in Seneca Lake, NY at the Church's first conference.
May, 1831
Katherine moves with the Smith family to Kirtland, Ohio.
June 8, 1831
Marries Wilkins Jenkins Salisbury. They are the parents of eight children.
The couple settles in Chardon, Ohio, several miles southeast of Kirtland.
1833
Jenkins serves a mission for the Church.
1834
Jenkins travels with Zion's Camp to Missouri, returning to Kirtland.
1835
Jenkins is called to the first quorum of Seventies.
May, 1838
The Salisbury family moves to Far West, Missouri.
February, 183
The Salisbury family flees to Illinois.
Settle in Plymouth, IL, about 40 miles from Nauvoo.
Carthage Jail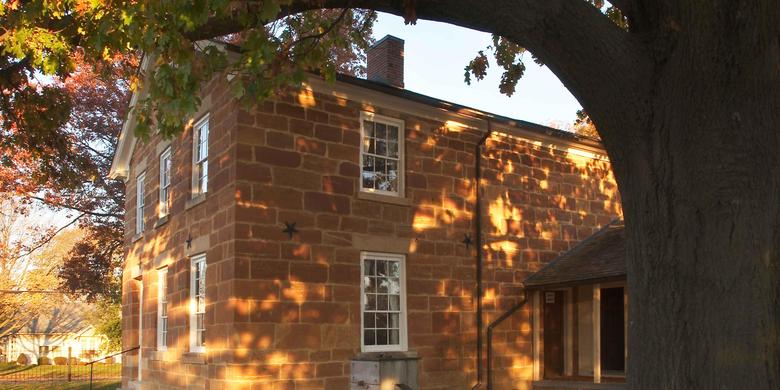 June 27, 1844
At the jail in Carthage, Illinois, a mob murders Joseph Smith Jr. and his brother Hyrum.
The Salisburys moved to Nauvoo to be with the other members of the Smith family.
1845-1847 (?)
The Salisburys settle in Fountain Green, Illinois, where Katharine lives for the rest of her life.
October 28, 1853
Wilkins Jenkins Salisbury dies of typhoid fever.
May 3, 1857
Marries Joseph Younger. They eventually divorce.
1873
Based on her 1830 baptism, Katharine is received as a member of the Reorganized Church of Jesus Christ of Latter Day Saints (RLDS Church), headed by her nephew Joseph Smith III.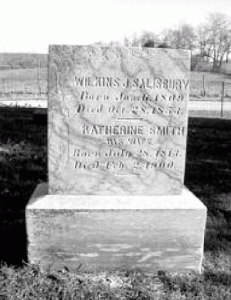 Katharine Smith Salisbury's Gravestone
Fountain Grove, IL
February 12, 1900
Katharine dies in Fountain Green, Illinois at the age of 86.