William B. Smith Timeline
March 13, 1811
William is born in Royalton, VT, one of the younger brothers of the Prophet Joseph Smith.
1812-1816
The Smith family moves to Lebanon, New Hampshire where Catharine is born in 1812.
The family moves to Norwich, Vermont and Don Carlos is born in 1816.
The family relocates to Palmyra, New York.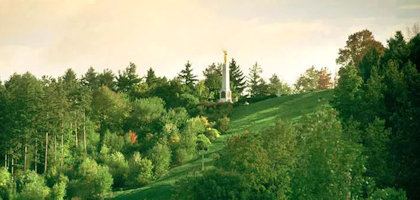 Hill Cumorah
September 22, 1827
Joseph makes his final visit to Cumorah and obtains the plates from the angel Moroni.
When Joseph returns, he lets William lift them as they lay in a pillow case.
April 6, 1830
The Church is formally organized in Fayette, New York.
June 9, 1830
William is baptized into the Church of Jesus Christ of Latter-Day Saints by David Whitmer.
William leaves soon thereafter to serve a mission in New York and Pennsylvania.
1831
William settles in Kirtland, Ohio.
December, 1832
William is called to serve a mission in Erie County, Pennsylvania.
During his mission he meets Caroline A. Grant.
February 14, 1833
William and Caroline are married in Kirtland. They will rear two children.
1834
William travels with Zion's Camp to Missouri.
He returns to Kirtland.
February 15, 1835
Called as a member of the Quorum of the Twelve Apostles of The Church of Jesus Christ of Latter-day Saints.
May, 1838
Leaves Kirtland with his wife and children and joins the church members in Far West, Missouri.
May, 1839
William and Orson Hyde are suspended from the Quorum of the Twelve by a vote of the church on May 4.
William is readmitted to the Quorum on May 25.
1839
Refuses a call to serve with other members of the Twelve in England.
Instead, he settles in Plymouth, Illinois.
April to December 1842
Editor of The Wasp in Nauvoo, Illinois.
1842 - 45
Elected to the Illinois General Assembly.
Also serves on the Nauvoo City Council.
Carthage Jail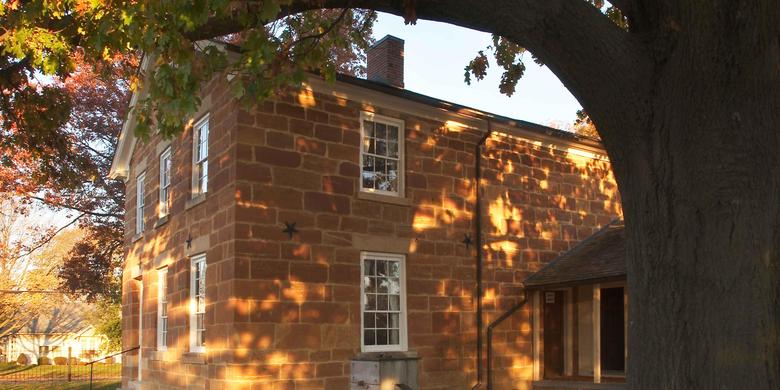 June 27, 1844
At the jail in Carthage, Illinois, a mob murders Joseph Smith Jr. and his brother Hyrum.
Following the Prophet's death, William is supportive of Brigham Young and the Quorum of the Twelve Apostles.
May 24, 1845
William is ordained Patriarch of the Church.
He soon claims his position gives him the right to be the next President of the Church.
June, 1845
William marries Mary Jane Rollins but the marriage doesn't last.
October, 1845
October 6: William's callings as Apostle and Patriarch are revoked and he is was disfellowshipped from the church.
October 19: He is excommunicated on grounds of apostasy.
1845-1847
William follows the leadership of James J. Strang and is involved with the Church of Jesus Christ of Latter Day Saints (Strangite).
1847
William announces he is the new president of the Latter Day Saint church, due to the doctrine of lineal succession.
The church does not last, and within a few years it dissolves.
May, 1847
William marries Roxie R. Grant, in Knox, Illinois. They have two children before they divorce a few years later.
1855
William moves back to Kirtland and attempts to start a new church with Martin Harris.
November 12, 1857
William marries Eliza E. Sandborn and will have three children with her.
1861
During the Civil War, William enlists in the Northern Army and is stationed in Arkansas.
1866
He and his family settle on a farm in Iowa.
1878
William joins the Reorganized Church of Jesus Christ of Latter-day Saints.
By 1891 he isn't affiliating with them anymore.
December 21, 1889
He marries Rosella Goyette in Clinton, Iowa, after his wife Eliza dies in March.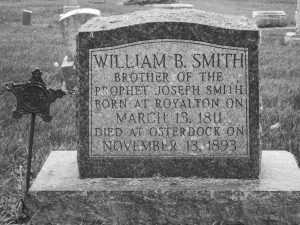 Grave of William Smith, Osterdock, Iowa
November 13, 1893
William dies in Osterdock, Clayton County, Iowa, at the age of 82.